HughesNet is a subsidiary of Hughes Communications. This company is a leader in the space of satellite-based communications services. As far as the business structure goes, Hughes Communications conducts its satellite-based business through the offices or operations of HughesNet. Just last year, that is 2011, Hughes Communications was acquired in a deal upwards of $1 billion by EchoStar which is also the satellite services business space. Among other things, EchoStar owns or operates the DISH Network too. HughesNet is the brand of the clutch of services offered by Hughes Network Systems. Hughes Network Systems is a Washington-based company and provides services all over the world.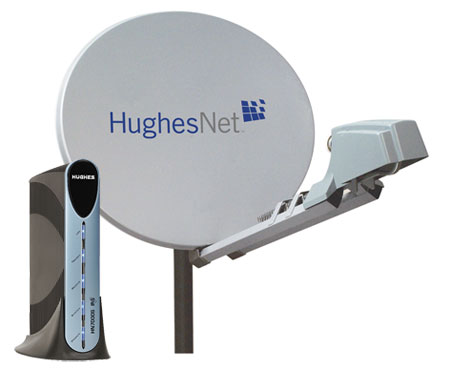 More about HughesNet
The company, Hughes Network Systems, delivers a portfolio of satellite Internet access technology and services under the umbrella of the HughesNet brand. These services are delivered all over the USA and Europe as well. Among its stable of services are:
one-way and two-way satellite Internet access
flexible pricing plans
unlimited "download zone" for the hours between 2 and 7 AM Eastern standard Time everyday
a new product offering called Gen4 which allows two-way satellite Internet speed of up to 15 MBPS
a global network which spans regions and countries like India, North America, Brazil and Europe
downstream rates which lie between one megabit per second to 2 megabit per second.
The most useful feature that this brand offers is something called daily data allowances. Normally these daily data allowances lie in the region of 500 MB. If a user were to exceed this daily data allowance, then data transfer speed is likely to reduce. Based on this daily data allowance, HughesNet offers a vast range of flexible pricing plans. On the lower side of such pricing plans lies something called a basic package which has 250 MB for a 24 hour duration.
Yet another useful feature about HughesNet offerings is the unlimited download zone. For an individual who wants to download a lot of things like movies, software updates and even games, this download zone can be a useful thing indeed. One of the newer offerings from HughesNet is the Gen4 product. This product offers two-way satellite Internet access in which enhanced data allowances up to 40 GB are available. A few months ago this year, EchoStar put their ECHOSTAR XVII satellite into launch. This launch boosts capacity of the HughesNet product with an additional 100 Gbps.
The HughesNet Gen4 product has been in the news lately because it has increased the speed of Internet access vastly and for its customers, 20 million Americans being some of them, this means a huge benefit. HughesNet is offering various pricing plans for the use of this product such as $50 per month for 10 Mbps downloads and 20GB data allowance and $80 per month for 30 GB limit. This is indeed a dramatic improvement in Internet services in terms of speed. User experience is also greatly enhanced because this product offers a wonderful web surfing experience and seamless and effective support for applications that need high bandwidth. These applications can range from music streaming to the use of social media to name just a few.
James is a writer and blogger with 5 years experience.